Jim McNeal is the leader of our band of divers and one of the most experienced divers in Virginia. Jim started diving in the 1950s while growing up in West Palm Beach, FL. After listening to a few of his stories, you will know just how raw the diving was in those days. He started off as a YMCA Instructor and in the early '80s converted to PADI, through which he has certified thousands of students.

Certifications: PADI Staff Instructor, TDI Advanced Nitrox & Decompression Procedures, Drager Semi-Closed Rebreather Instructor, Most PADI Specialty Courses
Favorite Dive Site: Ghost Mountain
Favorite Destination: Cozumel, Mexico
Bucket List Destination: I'll ask him when he gets back.
The Dive Shop has truly been Jim's dream in helping to bring scuba diving to everyone. In 1982 he left his job as a marine biologist working for the state of Virginia to open The Dive Shop. Jim's love is teaching new divers and introducing divers to new experiences. Whether it is VCU, William & Mary, the Boy Scouts, or someone leaving next week for the Bahamas, Jim wants their underwater experiences to be as amazing and wonderful as his have been.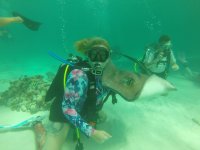 Mary has been with The Dive Shop for over four years now! She graduated from VCU and from there she pursued her dreams of breathing underwater and becoming a mermaid. Her dreams include swimming with Great Whites, Manta Rays and Mola Mola's.

Certifications:
PADI Advanced Open Water, Deep Diver, Rescue Diver, O2 provider, Gas Blender, Equipment Specialist, Zombie Diver, NITROX, Divemaster, Self-Reliant Diver
Favorite Dive Site:
Mary's Place, Roatan, Honduras.
Favorite Destination:
Palau
Bucket List Destination:
Iceland, Ireland, Greece
Dave DeBarger: Shop Staff: Master Diver
After retiring from WCVE PBS in Richmond, Dave found himself at loose ends and decided to put his knowledge of SCUBA diving to practical use. He has been sharing his love of diving with customers of The Dive Shop since May, 2016.
Certifications:PADI Advanced Open Water, Rescue Diver, Master Scuba Diver, Emergency First Responder, Enriched Air Nitrox, Drift Diver, Deep Diver, Boat Diver, Equipment Specialist.
Favorite Dive Site: Buddy's Spot, Cozumel, Mexico
Favorite Destinations: Cozumel or Bonaire or anywhere with warm water!
Bucket List Destination:Great Barrier Reef